Are you concerned about your elderly loved one's diet? Maybe the doctor has recommended she lose weight to reduce her risk of developing certain diseases like diabetes or heart disease. It could be that she's underweight and needs to build up more stamina and strength so that her body can fight off bacteria and germs that come her way. Or it could just be that a lifetime of unhealthy eating habits is catching up with her in ways that it never did when she was younger. Many people find that food affects them differently as they get older and what was once okay to eat non-stop now creates uncomfortable side effects. Their personal care at home provider can oversee their eating habit and help them make adjustments.
If you're looking to help your loved one make some changes to her diet, here are five tips you can help her utilize to increase her chance of success. These tips are generic enough to relate to most dietary changes but always check with her primary doctor before any large changes are made and to customize them with any requirements she may have.
Learn to read food labels.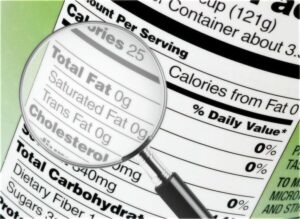 Your elderly loved one needs to know what is going into her body. When purchasing any packaged food, including basic items like bread, she should learn to read the labels to ensure she understands what she is eating. Sometimes food can look like it's healthy, but once the label is read, your loved one might find it's not as healthy as she thought. Having personal care at home providers help with reading labels is a great way to start. Some labels are very small print so if she can have her personal care at home provider read them for her, it'll make sure she doesn't skip this necessary step.
Know how many calories she needs each day.
Now that your loved one is reading labels (all labels list calorie counts), knowing how many calories she should strive for in a day can help keep her within the recommended range. Hitting an exact number is not necessary but knowing if an item is taking up 50% of her recommended daily calories is important.
Understand what to avoid.
Sometimes it's easier to know what you shouldn't have. Even if your loved one needs to gain weight, you want her to avoid having too many unhealthy food elements. Some things to avoid or make sure they are consumed rarely are items that have either a lot of saturated fats, sodium, or sugar. All of these are okay in moderation but watch for hidden amounts when reading those labels.
Enjoy a nice variety of food.
When shopping with her personal care at home provider, they should strive to include many healthy foods in your loved one's diet so they receive multiple nutrients. For example, look for fresh produce that is in season so that it changes throughout the year what she's enjoying.
Finally, try a food diary.
If your loved one feels especially motivated, a food diary can help her stay on track and reach her goal of a healthy and balanced diet.
If you or an aging loved one are considering Personal Care at Home Services in Ashland OH, please contact the caring staff at Central Star Home Health today. Call 419-756-9449
Central Star Home Health is a Trusted Home Care Agency in Ohio including Ashland, Bellville, Bucyrus, Crestline, Galion, Lexington, Mansfield, Marion, Mt. Vernon, Ontario, Shelby, and Willard.
Latest posts by Stephen Sternbach
(see all)