Dementia is a challenging condition that affects not only the memory and cognitive abilities of those who suffer from it but also their emotional and social behavior. It is common for individuals with dementia to exhibit mean and negative behavior, which can be distressing for both the affected individual receiving home care assistance services and their loved ones. Understanding and managing these behaviors with compassion is essential to providing the best quality of life.
Consider the following strategies that can work with home care assistance and loved ones for managing behaviors with care.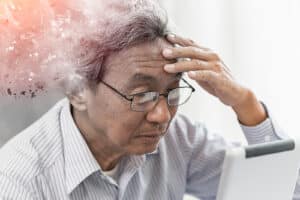 Understanding the Causes
Before addressing negative behavior in dementia, it's crucial to understand the root causes. Dementia can affect the brain in different ways, leading to behavioral changes. These changes might include:
Cognitive decline: As dementia progresses, seniors may become confused, agitated, and frustrated due to their inability to understand or remember information.
Communication difficulties: Dementia often impairs communication skills, causing them to become frustrated when they can't express their needs or understand others.
Emotional distress: Dementia can stir up feelings of fear, anxiety, or depression, which may manifest as negative behavior.
Physical discomfort: Pain or discomfort, which may be undiagnosed, can also lead to irritability and aggression.
Empathy and Patience
The first step in managing these behaviors is to approach the situation with empathy and patience. Loved ones should remember that these frustrating behaviors aren't a choice but a side effect of changes in cognitive functioning and utilize home care assistance to provide the best support possible for seniors.
Effective Communication
Effective communication can go a long way in reducing negative behaviors. However, loved ones might struggle with this, and they are also dealing with intense feelings about the changes they see. By working with home care assistance, they gain clarity and support. Essential steps toward effective communication include the following:
Use simple and clear language.
Maintain a calm and soothing tone of voice.
Avoid arguing with or contradicting seniors.
Offer reassurance and comfort when they are upset.
Pay attention to non-verbal cues, like body language and facial expressions.
Establish Routine and Familiarity
Dementia often causes confusion and disorientation. Establishing a daily routine and keeping the environment familiar can help reduce anxiety and negative behavior. Simple visual cues, like labels on drawers or photos of family members, can be immensely helpful.
Engage in Meaningful Activities
Providing stimulating and enjoyable activities can help redirect negative behavior. Engage seniors in activities they once enjoyed or explore new hobbies that match their current abilities. Activities like music therapy, art, and gentle exercise can be particularly beneficial.
Medication and Professional Help
In some cases, a doctor's prescription for medication may be necessary to treat severe behavioral symptoms of dementia. Loved ones can consult with healthcare providers for guidance on medication options and their potential side effects.
Dealing with these behaviors is undoubtedly challenging, but it's essential to approach the situation with understanding, empathy, and compassion. By using the tips above, along with compassion, patience, and consistent home care assistance, loved ones can help seniors navigate through this difficult time.
Sources: https://www.helpguide.org/articles/alzheimers-dementia-aging/alzheimers-behavior-management.htm#:~:text=Consider%20factors%20such%20as%20privacy,just%20part%20of%20the%20dementia.
https://www.healthline.com/health/dementia/dementia-and-being-mean-to-family
https://memory.ucsf.edu/caregiving-support/behavior-personality-changes
If you or an aging loved one are considering Home Care Assistance Services in Shelby OH, please contact the caring staff at Central Star Home Health today. Call 419-756-9449
Central Star Home Health is a Trusted Home Care Agency in Ohio including Ashland, Bellville, Bucyrus, Crestline, Galion, Lexington, Mansfield, Marion, Mt. Vernon, Ontario, Shelby, and Willard.
Latest posts by Stephen Sternbach
(see all)