When you find out your mom has just a few months to live, it can feel devastating, and frequently, it may take you longer to accept than your mom. Your emotions may cloud your judgment, and you may start grieving before they are gone. If you are having a hard time accepting this new phase of life, it can be important to find someone emotionally stable enough to keep your loved one company during this time. This may come as companion care at home providers or even an end-of-life doula. These people will keep your senior company but also help them keep to their healthy habits and routines and help them understand their own emotions.
If you are looking for ways to support your loved one, here are some tips you can utilize.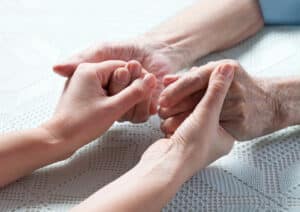 Tell a Senior They Matter
One of the most important things you can do is tell your mom how much you love them and tell her how much they matter to you. Doing this sooner rather than later is better because it might help give them peace of mind as they transition through this last phase of life. You should encourage your family and senior friends to also talk to them about these feelings and get them out in the open before it's too late. It's time for forgiveness and to put things in the past and move out.
Allow Them to Feel in Control
During this time, your senior mom may feel like they're losing control of their life and can't do anything. However, with the help of you and companion care at home, they can help a senior retain a routine and allow them to feel in control of their day. Always ask what they want to do and ensure everyone follows their wishes. This will help them cope and feel in charge of the time they have left.
Listen Actively
When your loved one is dying, it can be easy to stop listening to what they want and try to find solutions that don't involve death. Most doctors will estimate a certain timeline for your senior, which is usually very accurate. So, it's important to listen to your seniors during this time and actively figure out what they want to do with the time they have left. You mustn't boss them around or take charge of their daily lives, thinking you can prolong death. It's time to communicate and listen to your senior loved one openly.
Talk About Their Fears
With this new stage of life, it can bring up a lot of new fears. This is another instance where you will need to listen openly. A senior may not want solutions but may want to talk about death, beliefs, and spirituality during this time. If you can't provide that for your senior mom, it's important to find someone else who can provide this kind of support.
Tell Them It Is Okay
At the very end of this stage of life, your senior may try to hang on to life, but it may be painful and uncomfortable. You can assure them that it is okay to take the next step, whatever that means for them. Sometimes all they need to hear is that it's okay and you forgive them and love them.
If you or an aging loved one are considering Companion Care at Home Services in Crestline OH, please contact the caring staff at Central Star Home Health today. Call 419-756-9449
Central Star Home Health is a Trusted Home Care Agency in Ohio including Ashland, Bellville, Bucyrus, Crestline, Galion, Lexington, Mansfield, Marion, Mt. Vernon, Ontario, Shelby, and Willard.
Latest posts by Stephen Sternbach
(see all)